The Canadian population grew steadily in the second half of the 19th century. Between 1871 and 1911 the national population doubled from 3.6 million to 7.2 million and almost all of this growth occurred in the big cities of southern Ontario and Quebec. By 1891, the population of both Toronto and Montreal had grown to around 200,000 inhabitants. By comparison just 19,000 people lived in Vancouver. The growth in the west would come later from 1910 onward.
This rapid growth in the size of the big eastern cities put a considerable strain on the capacity of the postal services. It required the rapid development of sub or branch post offices in the bigger cities to keep pace with the growth in postal volume and also to provide a local service to the spreading population.
The result was Canada's first city sub post offices. By 1890, these had opened in Toronto, Hamilton and Montreal and by 1915, they existed also in Ottawa, Kingston, Quebec, Annapolis N.S., Halifax N.S., Vancouver, Winnipeg and St John N.B..
In the early days, many of these new branch offices were named after the streets in which they existed and thus "Street Cancels" were born. In later years, many of these same offices were re-named with rather less glamorous sounding sub –office numbers (thus Ottawa's Bank Street became Sub # 33).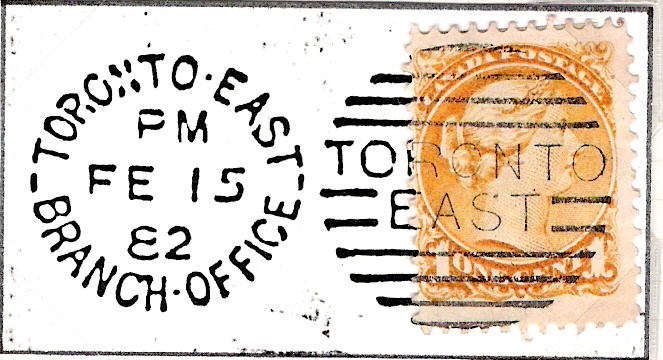 So what are "Street Cancels"? Well, to my knowledge, no-one has yet produced a comprehensive checklist or catalogue that may impose a defined list on us, so unlike many other collecting areas, we are free to include or exclude pretty much anything we like around the general theme of branch post offices. For the purposes of this article, I have confined myself to the early period of branch office development from 1880 up to the end of the First World War in 1918 and to the cancels that were used in this period from branch offices bearing a street name. Note that "street" in the context of street cancels includes a fair few "avenues", "boulevards", "squares", "roads", the odd 'place' and one "rue".
This time period of 1886 to 1918 neatly includes most of the known post offices with an actual street name in them; as, following World War I most cities changed over to numbering, rather than naming, sub post offices. Some of those that came later are mentioned briefly for completeness. I have also included a few of the early branch offices that do not have a street name in them where they are important to the overall story or where I know they are often included as part of a collection of "Street Cancels".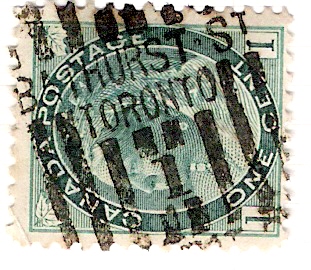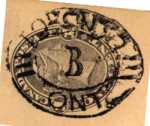 A number of different types of cancel were in use during this period. These include; split ring cancels, circular date stamp cancels, squared circles, roller cancels, duplex cancels and parcel oval cancels. Examples of all of these can be found from the Street offices. In total many hundred different types of cancel exist but many of these, particularly those in use after 1900, are very rare.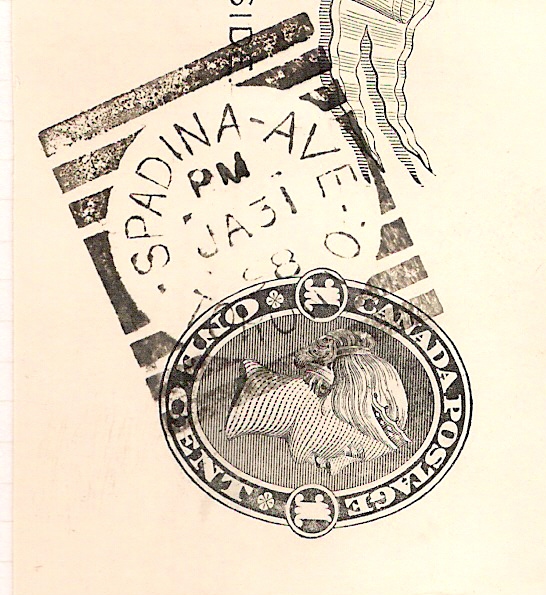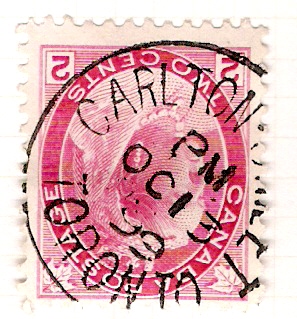 You can find a listing of all the known 'Street Cancel' post offices here and a separate listing of all the known Street Cancels from the 1886 – 1918 period can be found here. I will update these listings from time to time as more information comes available.
The full story behind these 'Street Cancels' was provided in a long series of articles in the Society journal Maple Leaves between 2007 and 2011. If you are interested in knowing more about the cancels why not apply to join the Society? Details can be found here.